Welcome to our expert's page, where we introduce you to the brilliant minds behind our state-of-the-art XAI-enabled cloud solution platform.
Here, you'll gain unparalleled access to insights, trends, and best practices that are shaping the future of cloud-based AI solutions.
Selvaganapathy C:

Senior AI Technical Architect
Selvaganapathy is a marked software professional with an impressive track record of 15+ years which covers the entire spectrum of software product development, from initial requirement analysis to prototypes, system design, coding, debugging, implementation, and documentation. Selvaganapathy also possesses 2+ years of specialized expertise in designing and developing AI-based SaaS systems, complemented by a rich 5-year entrepreneurial journey in the SaaS startup arena. He has provided strong technical leadership in the creation and deployment of cloud-native applications, skillfully solving crucial business problems.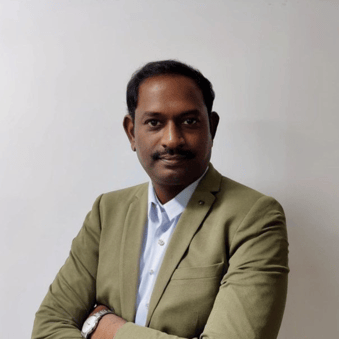 Selva's impressive academic background includes a master's degree in computer engineering from North Carolina State University, USA. He earned a Graduate Research Assistantship at North Carolina State University, where he was engaged in a Cisco Research project. In terms of certifications, Selva has continually invested in his professional development, earning credentials in Generative AI and Large Language Models from reputable institutions. Selva also holds an Indian Patent (No. 202915) for his academic paper "Life Saving Cell Phone System". These academic achievements have honed his research skills, which he has applied extensively throughout his career.
In his role as a Senior Technical Architect with Mintmesh India Pvt Ltd, Selva demonstrates his leadership abilities by directing the design and implementation of AI systems aligned with business objectives. He actively works on developing Proof of Concepts (POCs) using advanced technologies and provides technical direction for the development team. Selva's role includes designing SaaS systems that prioritize scalability, high availability, security, and observability, further solidifying his role as a leader in the field. This role helped him to adapt to the latest AI skills in Large Language Models such as OpenAI GPT 4, Anthropic Claude, and concepts like Retrieval Augmented Generation(RAG), Semantic Search, and Prompt Engineering.
Selva has a rich entrepreneurial background, having established the SaaS enterprise Naanal Technologies Pvt Ltd and guiding it to noteworthy achievements. His period serving as the founder and CEO of the startup marked a significant phase of professional development in his career. In this capacity, he honed his business understanding, mastering the nuances of product management, and deepened his technical knowledge, particularly in crafting robust architectural frameworks.
Drawing from his extensive background at Brocade Communications Systems in Silicon Valley and HCL Technologies, Selva possesses a broad spectrum of expertise in cutting-edge cloud technologies and platforms, including Amazon AWS, Google Cloud GCP, Azure, Kubernetes, Docker, Networking, and Security.
Selvaganapathy's rich and diverse experience, along with his constant pursuit of knowledge and excellence, makes him a prominent figure in the world of software development, AI, and entrepreneurship. His skills and accomplishments serve as a testament to his expertise and dedication in shaping the future of technology.