Businesses of all sizes and types invest a lot of money in making their business models work better with technology. Many companies are spending money to rethink their business strategies because B2C digital giants like Uber, Netflix, and Amazon have disrupted traditional business models and changed customers' expectations.
Companies must be more customer-focused, agile, lean, and interactive to stay relevant in the so-called Fourth Industrial Revolution, combining offline and online, mobile, artificial intelligence, social, and cloud technologies.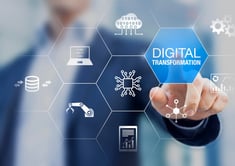 Choosing the right technology stack for digital transformation is essential. Artificial Intelligence appears more than ever in these technology stacks. Firms that have undergone successful digital transitions are more likely to use modern technology such as artificial intelligence, the Internet of Things, and neural machine-learning algorithms. In the early stages of transformation, companies should adopt AI ML technologies to ensure their employees are augmenting their tasks and decisions to build trust and ease transition.
Digital transformation essentials
The following are the essential parts of any digital transformation:
Strategy: Getting the vision, customer experience, processes, and technology to work together.
Product Design Mindset in Execution: Minimum viable product and "fail fast" mentality.
User-centered design: It focuses on mobile and customization.
Agility in Delivery: Iterative approach and flexible.
Integration approach: Integration of software, platforms, and technology means choosing environments and products that work well together.
Data, analytics, and insights: Constantly feeding back into each other.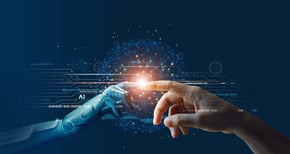 Even though CIOs and technology leaders know the essential parts of a successful digital transformation, a recent survey by Couchbase found that nearly 90% of digital transformation projects have failed.
In the next section, you can see how investing early in organizational change management can increase the chances of success.

Invest in Organization Change Management, Early and Often - The keys to success
A standard framework involving people and processes: Implementing a uniform framework involving employees, business partners, processes, and technologies is more likely to achieve transformation success for people, processes, and technology (PPT).
Defining key business outcomes: It helps to go for a top-to-bottom approach to identify digital transformation outcomes and then make a suitable solution to deliver them. Analysis of technology solutions is essential to study process impacts. All these factors help to determine the best approach in selecting a technology solution that can deliver business outcomes faster. As mentioned earlier, it is OK to fail fast and succeed quickly. However, it would be best if you join hands with a reliable technology partner that is agile and moves fast to succeed in this initiative.
Return on Investments (ROI): A solution's ROI is essential. Conducting a proof of concept (Pilot) to identify and validate the ROI of the digital transformation initiatives and the agility of the participating teams is critical.
Executive sponsorships: The success of digital transformation initiatives rests on administrative support in a significant way. One of the critical factors is to design a strategic roadmap for organizational change management. Incentives for system end-users in the transformation exercise will be a motivational factor.
Mini roll-out: Most digital transformation projects fail when it comes to adoption. A mini roll-out is essential to guarantee that any potential bugs iron out before a large-scale roll-out.
Involving regional champions: The transformation evangelists must identify regional champions who can keep the momentum going and track and evaluate the return on investments so planned benefits get realized.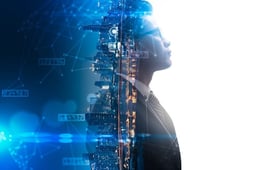 Digital transformation is a journey initiated by an executive sponsor, but success is through proper planning, evaluation, and implementation with knowledge of the correct manual processes for automation.
Organization change management preparedness is essential for adopting digital transformation and should align and support core transformation elements like strategy, user-centric design, integration, and data analytics. Choosing the right technology partner in the journey is of paramount importance.


Discover Rudy AI - Technical Evaluation for Digital Transformation.
Sign up for a Free Demo Today